We couldn't do animal welfare work without the help of our volunteers.  If you would like to become involved, there are lots of areas you can help out with.  From working at the rescue center, to organizing fundraising campaigns, the possibilities are endless. 
Walk and socialize dogs, provide daily animal care, including helping to keep the Center and animal shelters clean.
What you will do:
Daily walking of the dogs.

Socializing and grooming the animals.

Feeding the animals, including providing special diets as needed.

Monitoring the health of the animals and identifying any health problems or conditions (medical or behavioural) and immediately reporting it to the supervisor.

Medicating animals as directed.

Assessing the temperament of the animals to facilitate finding the best possible placement for each individual animal.

Spot cleaning of animal and public areas throughout the day.

Doing laundry, dishes, washing windows, cleaning and mopping public areas as needed.

Daily, thorough cleaning of all animal areas, including inside/outside runs, cat areas, floors, dishes, bedding, etc.

Providing a healthy, safe, clean and pleasant environment and facilities for the animals and visitors.

Promoting a humane and caring attitude toward all animals.

Treating all animals humanely, properly, and with compassion at all times, regardless of the situation or circumstance.

Assisting in the vaccination, examination, performance of medical treatments, and, euthanasia as needed.

Maintaining a friendly demeanour and providing good customer service while assisting with adoptions.

Working courteously and cooperatively with other staff members.

Filling in for other areas and performing other tasks/functions as needed, including helping out at special events.

The majority of our dogs are rescued from the streets, so they know how to survive but need to learn how to interact with humans. With some training they will fit into their new homes with more ease.
What you will do:
Provide focused behaviour modification for designated shelter dogs to give dogs a chance to progress, to provide them with mental stimulation, and to improve the likelihood that they will be adopted sooner. Target dogs are those who are marginal, who are under socialized, or who have lengthier shelter stays. Through training and socialization, improve the lives of dogs that are at risk of staying too long in the shelter or deteriorating mentally.
Execute training plans individually and as part of a team.

Devise and implement training and enrichment ideas for shelter dogs.

Teach volunteers to perform behaviour modification techniques for target dogs.

Maintain database records of training sessions and report on progress and observations of each assigned dog. Use that data to seek ways to increase effectiveness.

Keep current on behaviour information for all canine shelter guests by reviewing behavior notes and conferring with staff. Discuss information about current dogs available for adoption.

Ensure animals with training plans have written instructions or information in their files. Communicate training plans and enrichment opportunities with staff and volunteers.

Provide backup for intake staff to bring in the organization's rescued dogs by participating in periodic rescue runs.

As a back-up resource, assist with behaviour evaluations of canine shelter guests. Review and assess behaviour evaluations, as needed.

Teach public dog training classes as schedule allows.

.

Promote teamwork, communication, and cooperation between all team members and volunteers.

Communicate professionally with staff, volunteers and members of the public.

Always promote a humane and caring attitude toward all animals.

Vet Volunteering with MWA is not only rewarding from a veterinary perspective but you can see first-hand the results of the spay and neuter campaign with local families showing their appreciation of your work.
Volunteers will be working at the Mbwa Wa Africa field clinics in rural areas. Volunteers should therefore be prepared to work in basic facilities and be adaptable to the equipment / facilities available. Common locations for clinics include classrooms without electricity or running water and tented clinics out in the field.
You will be carrying out spay / neuter surgery on mainly dogs and a few cats using injectable anaesthesia. For the local community there is no other affordable veterinary help in this area so you should also expect to carry out other veterinary treatments and surgery as required; eye treatments, amputations, anti parasite control, vaccinations are examples of some of the cases you may be asked to help with. In addition to this you may also be required to treat animals cared for at the shelter.
Volunteer veterinarians should have a minimum of 5 years post qualification experience with strong surgical skills. You should also be confident in handling emergency surgical situations given the field conditions that you will be working in.
Expected working hours will vary but will generally be from 8am – 5 pm for 10 consecutive days with some time off to relax in the evenings. There will also be opportunities to explore the National Parks in the area.
Volunteers are asked to commit to a minimum of two weeks volunteering and can stay for longer periods if they wish.

These volunteers are advocates for the animals and help educate the communities on the importance if issues like basic animal welfare and right, spay / neutering and communication.
As of January 2016, MWA began a new educational program in the local schools. We felt that in order to begin to change attitudes toward dogs, we needed to do so through the children. Since there were no comprehensive materials available, we wrote our own curriculum and paired it with the English goals of the Tanzanian syllabus. It is a three month program designed to teach the students how to interact with dogs safely and to find the joy in having a relationship with them. 
What you will do:
Familiarize yourself with the curriculum

Attend classes at the local schools

Work with the MWA teacher to implement the lessons

Circulate through the room to provide assistance to individual students

Handle the dogs that will be in the classrooms

Assist with computer, art and photography projects

Aid in behavior management of large classes

Talk to the teachers at the schools about dogs

Help grade the pre and post assessments

Demonstrate proper animal care to the students and teachers

Support additional needs at the school (e.g., help with struggling learners, library organization, environmental cleanliness)

Act as the primary teacher following the three month training program

Train local teachers to implement the curriculum

Our goal is to eliminate rabies in the Arusha Region
In Tanzania, rabies claims the lives of about 1,500 humans per year, most of them children. The World Health Organisation and OIE World Organisation for Animal Health advocate a 'One Health' approach to rabies control – vaccination of at least 70% of the dog population in a rabies-endemic area prevents the spread of rabies between dogs and its transmission to people.
For our major campaign in Meru District in January we are looking for volunteers. If you want to be part of it learn more here.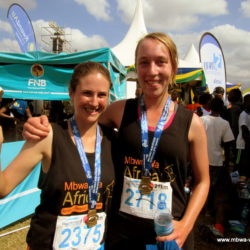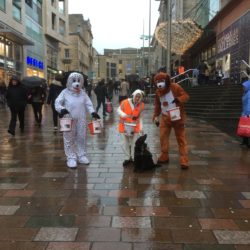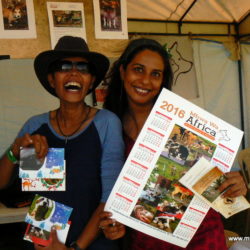 Organize an event and donate it to the project, throw a party, a BBQ, a garage sale. Run a marathon or climb a mountain.
Any help is appreciated. Contact Phyllis for more ideas, she is having thousands of them.
Country
Tanzania lies just South of the equator so there is little seasonal variation in temperature, but it is slightly cooler in June/ July and warmer in January/ February. There is much more variation between the coastal and low lying regions and the high plains and mountain regions.The north lies at an altitude of 1,500 to 2,1000meters (5,000 to 7,000 feet) and have a pleasant climate with warm days and cooler evenings year round.
Language
The official language of Tanzania is Kiswahili. This is spoken and understood by the great majority of the population, many of whom also speak a tribal language. There is a wide usage and understanding of English in towns.
Housing
Various options are available, from family stay, basic accommodation with shared or private bathrooms or Lodge stay at reduced prices
Mbwa Wa Afrcia does not provide food, but the facilities have kitchens and food prices are modest.
What to bring
You will need light clothes. For work at the clinic, casual clinic clothes are appropriate. A raincoat is needed in February-June and October-December. Otherwise, a sweater or fleece and light jacket will suffice. Volunteers may do a lot of walking, so good walking shoes are important. Some volunteers who have been here during the dry season recommend tan and khaki colored clothes because those colors do not show the dust. Plan to bring some reading material, a flashlight, a headlamp, batteries, camera, etc. There is a lodge with a swimming pool nearby, and there may even be time for the beach, so bring a swim suit.
Visa requirements
Currently all volunteers and visitors are required to get a tourist visa either at the airport on arrival or preferably from the Tanzanian Embassy prior to travel. Visa costs vary by country, but are usually $50, US Citizen $100. Volunteers, residents, and students are then required to get a short term working permit, due to current changes of the immigration laws please contact us for details.. Volunteer Vets and Vet Nurses will need a temporarily registration in Tanzania, this requires considerable documentation which will be shared with you prior to your planned volunteer period. In addition, your passport expiration date must be at least six months after your arrival even if you plan to stay just one or two months.
Concerning health, check the CDC website for current immunization recommendations; as of March 2012, there were no required immunizations (BUT if you plan to visit Zanzibar, yellow fever IS required). The current recommendations for malaria prophylaxis are daily doxycycline (less expensive) or daily Malarone. Weekly mefloquine is an option, but side effects can be troubling and there is moderate resistance to mefloquin in this area. Rabies immunization is required due to the subject of work.
Insurance Mbwa Wa Africa Animal Rescue require that all volunteers arrange personal travel insurance to cover their medical, property and other personal risks for the duration of their safari.
Temporary one month membership of AMREF's Flying Doctors' Society may be purchased with your arrangements. This cover provides the services of light aircraft and skilled doctors for emergency treatment and evacuation to Nairobi resulting from accident or medical emergency in Kenya and Northern Tanzania
This is supplementary to and not a replacement for a standard travel insurance policy.
Currency
The local unit of currency is the Tanzanian Shilling which these days is freely convertible within Tanzania for the US$ and other currencies. There are numerous banks and bureau de change in towns, and most lodges and hotels will exchange currency or travelers cheques at reasonable rates.
It is not possible to obtain Tanzanian Shillings outside the country, and it is illegal to export more than a small amount. Many tourist items or services are priced and paid for in US$, so do not convert more cash funds into the local currency than you need for incidental expenses.
The easiest way to exchange money and get the best exchange rate is to use a Bank (Cirrus/Maestro), VISA or Mastercard cash or debit card of the type that has a PIN number (must be 4 digits). If you visit a National Park on your own (i.e. not with a safari company), the entrance fees of $45 -100/day, must also be paid with a VISA or Mastercard debit or credit card that has a 4 digit PIN. Notify your credit card company that charges will be coming from Tanzania; otherwise charges from here are automatically blocked. Travellers' checks can be useful as an emergency reserve, but high exchange fees and poor exchange rates make them less useful as a primary source of cash.
Electricity
The power supply is at the UK/ European standard voltage of 220/240 , and power sockets are the UK square pin type. Remember if you want to use US appliances you will need a voltage convertor as well as a plug convertor. Mains power supply is subject to cuts and voltage fluctuation.
Communications
Mobile networks are available with various providers, but the signal strength can vary from location. To avoid high roaming charges we recommend to purchase a local sim card at a very moderate cost of TZS1,000, special rates to call abroad are sometime available.
Internet is available at the Mbwa Wa Africa Shelter, various places are offering free WiFi-service and, again depending on the location, via your mobile phone
Safari Options
Mbwa Wa Africa has made a special agreement with local Safari Companies and volunteers can go at their own cost on safari or day trips. Various options are available, some of them need to be booked in advance, please let us know early enough if you would like to see part of our beautiful country.
Cost will vary on the type of accommodation you choose and is ranging from $15 – 70 per day.
Included is
Help with visa and permit application (please note that Veterinarians and Veterinary Nurses / Technician need to register with the Veterinary council of Tanzania. For our volunteers this registration is for free but we will need some additional documents in advance)

Airport pick-up at Kilimanjaro and Arusha Airport, in case you are coming from Nairobi we will pick you up in Arusha at the shuttle bus stand

We will be there for you 24/7
Not included
International flights, travel insurance, visa, meals, drinks and other personal expenses