This Christmas season we are busier than ever, particularly with abused and abandoned puppies. Our shelter and clinic is frequently overwhelmed with puppies carrying infectious diseases as a result of not being properly vaccinated. Our wish this year is to build proper quarantine and isolation facilities so we can treat and care for all those who need to a high standard and maintain a safe environment for our other rescue dogs.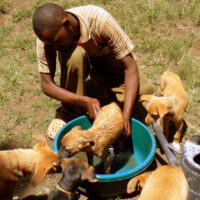 €155.00 – Provides an animal handler for one month. Our dedicated animal handlers walk the dogs twice a day, take care of our disabled dogs, and give all the required food, water and dog cuddles. They work hard to get the dogs ready for re-homing.*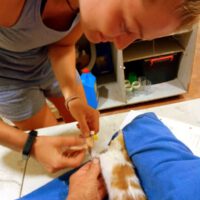 €210.00 – Provides a vet nurse / technician for one month. These are our inpatient care takers, vaccinators, and surgery assistants without whom we could not run our facilities.*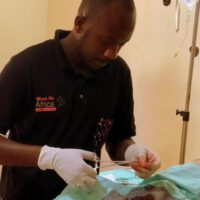 €670.00 – Provides a vet for one month. Essential for all the treatments and surgeries we provide to the community.*
* Includes salaries, taxes, and staff food.
If you are a UK resident you can add Gift Aid if you are donating via our Four Steps To Freedom donate button below.
US donations are tax deductible when you donate via our 501c registered partner Animal Kind International donate button.
Deposits can also be made into the below bank accounts

Exim Bank (Tanzania) Accounts
Account Name: Mbwa wa Africa Animal Rescue
TZS Account 0030026290
USD Account 0030026291
Exim Bank (T) Ltd.
P.O. Box 14319,
Samora Avenue
Dar es Salaam, Tanzania
Exim Bank Swift: EXTNTZTZ
U.S. Donations via Animal Kind International
Please make checks payable to:
Animal-Kind International.
Please send it with a note that is dedicated for Mbwa wa Africa to:
Animal-Kind International
PO Box 300
Jemez Springs, New Mexico 87025 USA
AKI's Tax ID #: 74-3230332
Sparkasse Lemgo
Germany
TierhilfeTansania e.V.
IBAN DE67 4825 0110 0007 1796 82
BIC WELADED1LEM