Please note that no payment providers like PayPal or Stripe are available in Tanzania. Therefore our donations are handled via our German charity Tierhilfe Tansania e.V.
As a charity, we rely on donations to carry out our vital work. Some of our everyday costs are shown below. What we have achieved to date was only possible thanks to our supporters.
Please make a difference today.
The Mbwa Wa Africa team rarely ask for funds but these past few months we have been struggling move than ever to keep afloat due to the new veterinary clinic running and majority of work we do free for the community.
And now.. our trusty clinic car recently had a month stay in the garage and racked up a bill of 1.6MTsh ($695).
We were allowed the car back with the promise of repaying this amount in the coming weeks.
The problem is.. we do not have any saving pots or cash in the bank for this at all and things are getting desperate!
This car is so valuable to us for the following reasons:
takes our staff to and from campaigns throughout the year for neutering and rabies vaccines
Allows us to carry out home visits weekly for animals in need
Allows us to carry out our TVT (transmissible venereal tumour) treatments weekly to the community dogs.
Gives us transport to be able to collect emergencies from the street and shelter when called
Gives us transport to pick up valuable supplies from our local town 1hr away.
Without this car, we wouldn't be able to help so many animals and therefore we are now asking you, our wonderful supporters to help raise this amount of money so we can carry on doing the work we do.
Any amount, small or big will help towards paying off our car and we are truly grateful for your help.
Tanzanian support – Mpesa: 0623 910 737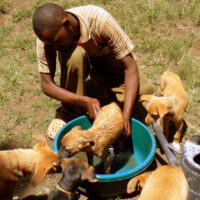 €155.00 – Provides an animal handler for one month. Our dedicated animal handlers walk the dogs twice a day, take care of our disabled dogs, and give all the required food, water and dog cuddles. They work hard to get the dogs ready for re-homing.*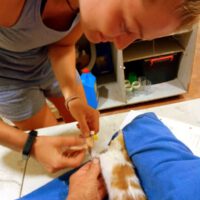 €210.00 – Provides a vet nurse / technician for one month. These are our inpatient care takers, vaccinators, and surgery assistants without whom we could not run our facilities.*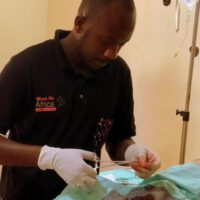 €670.00 – Provides a vet for one month. Essential for all the treatments and surgeries we provide to the community.*
* Includes salaries, taxes, and staff food.
If you are a UK resident you can add Gift Aid if you are donating via our Four Steps To Freedom donate button below.
US donations are tax deductible when you donate via our 501c registered partner Animal Kind International donate button.
Deposits can also be made into the below bank accounts

Exim Bank (Tanzania) Accounts
Account Name: Mbwa wa Africa Animal Rescue
TZS Account 0030026290
USD Account 0030026291
Exim Bank (T) Ltd.
P.O. Box 14319,
Samora Avenue
Dar es Salaam, Tanzania
Exim Bank Swift: EXTNTZTZ
U.S. Donations via Animal Kind International
Please make checks payable to:
Animal-Kind International.
Please send it with a note that is dedicated for Mbwa wa Africa to:
Animal-Kind International
PO Box 300
Jemez Springs, New Mexico 87025 USA
AKI's Tax ID #: 74-3230332
Sparkasse Lemgo
Germany
TierhilfeTansania e.V.
IBAN DE67 4825 0110 0007 1796 82
BIC WELADED1LEM