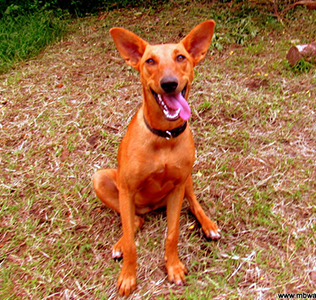 Pet details
| | |
| --- | --- |
| Name | Ginger |
| Sex | Female |
| Born | 06.06.2016 |
| Size | Big (20+kg) |
| Neutered | Yes |
| With us since | 08.08.2016 |
Meet our beautiful Ginger Lady!
She was born to a street dog mum, who was smart enough to give birth on the compound of a nice couple, which looked after the little family.
Ginger came to us when she was 8 weeks old to save her from her mother's fate.
Of all her 7 sisters Ginger was the shyest one – at first! Once she knows you she is very sweet, affectionate and alert about everything what is going on around her.
She was hit by a reckless motorbike driver on a forest path! at the 1 of November. He broke her left hint leg and the poor girl had to wear a cast for 2 month…It all healed well and she is running and jumping again like nothing had happened!
It left her though with a fear of everything what is moving, like cars, motorbikes of course, even people, especially if they are running!
Most people she won't trust that easy, but if you won her over she is a absolute wonderful dog, friendly, playful, energetic and eager to learn.
Ginger will need a quite (traffic-wise) home with a lot of space to run around and people who already know dogs and give her the room and time to settle in and most of all LOVE!