The team in Glasgow is led by Phyllis Hutchison who has a wealth of experience, working with many Scottish Animal Welfare charities as well as having personally rescued and cared for many abandoned and neglected dogs throughout her life. Phyllis's passion and commitment is evident to anybody who meets her and it is this drive and determination that makes our work a great success.
Along with friends and supporters, she has visited Tanzania many times since 2013.
The organisation is lucky to have volunteers from different backgrounds with complimenting skills who make the work possible, without them none of this would be possible.
This section of the website includes details of the registered Scottish Charity No SC045521 and how it supports the many challenges affecting the work of Mbwa wa Africa Animal Rescue.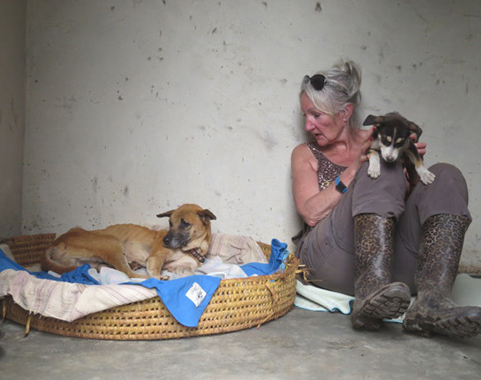 Background
Phyllis Hutchison of Giffnock, Glasgow whilst visiting an orphanage that she supports in Tanzania, Africa, was shocked when she observed large numbers of injured and maimed dogs.
Researching this, she was horrified to find that it was common to inhumanly cull the population by shooting them in an effort to control the number of street dogs.
After further investigation, she found Mbwa wa Africa Animal Rescue and was so inspired by what she saw there that she has pledged to fundraise to get an animal clinic/training centre.
The proposed animal clinic/training centre will be purpose built for an ongoing spaying and neutering programme in addition to caring for injured animals, together with an animal welfare education program and a vet training facility.
With this vision in mind Phyllis returned to Glasgow, Scotland and started Friends of Mbwa wa Africa.
Meet the team
Do you want to know how you can help our charity with your own fundraising events using traditional methods or social media?
Please get in touch with us today with the contact form below or through our social media channels today to have a chat. If you have a love for dogs or children then please do whatever you can to help as everything you can donate counts!