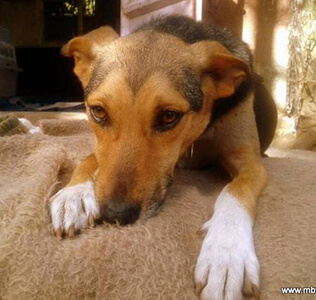 Ajabu
Ajabu means miracle in Suaheli, and it is quite a miracle that she came into the care of our shelter. Actually, she has to thank Taji, one of our other wheelchair dogs. She and Sandra were on a walk, when Taji insisted in taking a road where they usually never walk. Taji went straight to some bushes, and there she was sitting, our tiny and scared Ajabu.
She was a tiny puppy and something was wrong with her hind legs. How she ended up in those bushes we don`t know. But probably she belonged to somebody and they did not want her anymore due to her deformed legs.
This was in August 2017. By now Ajabu is grown up and one of our 7 wheelchairdogs. She could not use her hind legs as they were deformed from birth on and got really big wounds, wherefore we decided it is best to amputate both her hind legs.
Ajabu was always quite scared of strangers, and actually everything outside that was moving. It took us more than half a year (after she got her wheelchair) to take her on walks with us. But by now she is enjoying her walks a lot and she turned into quite a cheaky and playful dog. She has got bees in her butt and you can hear her playing and zooming around even from far away, because of her amazing vocalization repertoire. Also, she is proud member of our two-legged wheelchair gang. Where those wheelies are coming- you gotta get out of the way!