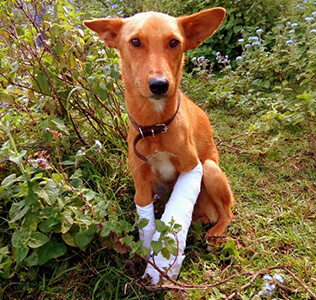 Vivo - I live!
This unfortunate dog was caught with his two front legs in a snare…
Vivo went missing for 4 days, before he came home, or was found – we couldn't quite get the whole story. However, he suffered gruelling injuries, one paw was gone and the stump was rotting away, the other leg was skinned and the joint separated. How he could survive that and even walk is a miracle. but he did and even more, he still was the sweetest, friendliest little guy.
He is from our neighborhood, but the kids who brought him to our gate in mid-July 2020, just left him and never came back.
His wounds are healing. The stump will need to be amputated, the other leg, we are trying to save at the moment.
He still has quite a journey ahead, but we will do whatever webcan for this sweet boy.
After all he went through he's proved to be a real smooch