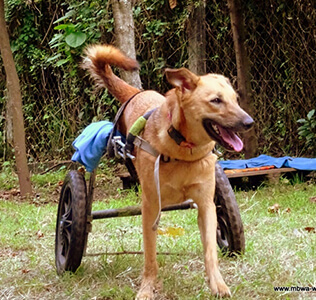 Silla
In September 2018, a tiny, 6 week old puppy was brought to us. Her hind legs were stiff, and she hadn't had any movement in her hips also.
At first we thought that we could help her with physio, good food and care, but her condition didn't change. An X-ray revealed that she was born with severe deformities of her legs and hips. But Silla was full of life and joy, just like any other puppy. She loved to play and developed a technique to slide and hop around very fast.
After 4 month her stiff legs kept her from moving and we decided that a double amputation would be the best option for her. Amazing Silla was up and about one day after the operation and as happy as a dog can be.
Silla is one of our superstars, always friendly and in a good mood, loves to cuddle, loves all other dogs and a very skilled wheelchair user. Seeing her mastering going 'off road' through the forest, through streams and shrubs, even over logs is just incredible.
She can be a bit shy with strangers, but not for long. Loving and affectionate as she is, we would be very happy for her, if she could find her very own human, who will cherish her for what she is and not judge her for what she is missing.