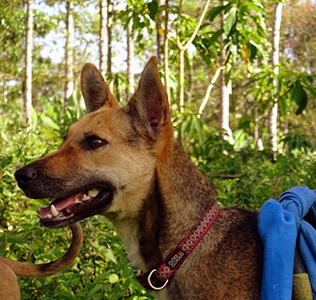 Giselle
In February 2020 we got word about a paralysed dog in town dragging her back legs.
She had been injured in a motorbike accident and was desperately looking for food.
She actually belonged to a family, but they had given up on her and we were told the father had ordered his children to buy rat poison to kill her.
When we took Giselle to the shelter, she was scared, in pain, and hungry.
Her injuries were extensive. One paw smashed, open and raw, the other leg had been most likely broken, but healed in a twisted way.
There was no other option than to amputate the leg with the wound and infected paw.
But sadly, she could not make use of her remaining one either. To make it worse, she developed epilepsy after the operation.
But this girl wanted to live. She was happy and loving.
After much help she learned how to use a wheelchair.
Her epilepsy is now under control with medication.
Today Giselle is a valued member of our pack. She loves to play and gets around really fast in her wheelchair.
She enjoys a nice nap in the sun.
Giselle is still a young dog and with her pleasant nature she would be a wonderful addition to a loving home.