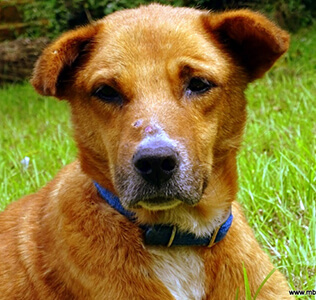 Buster
Sponsor or adopt me.
Buster was found at the end of June around Usa River market area. He was dragging his back legs on his way to drink from a little stream. He just lay down in the sun and waited….
When we took him to the shelter, he was too tired to lift his head and we discovered that he was covered in thousands of lice.
But he recovered! He put on a lot of weight, is now free of parasites and his skin has healed.
Buster will have a limp for the rest of his life, but he is going on small walks and is enjoying them lots.
He is a chilled guy except when other dogs bark at him.
The pups love him and he is 'in charge' of puppy education at the moment.