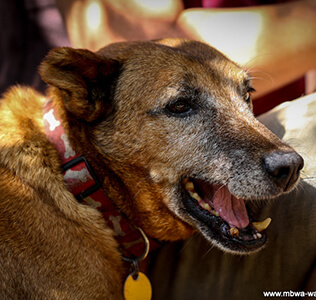 Babu
On the 26 of December 2018 Babu was brought to the Mbwa Wa Africa shelter. The old boy – he can be anything between 8 and 12 years – was peacefully sleeping on a small track when a car drove over him. His hind legs suffered multiple fractures, the vertebrae's of his spine were disconnected and his owner just threw him into the bushes.
Thankfully, a kind soul witnessed this and asked us to help.
Babu couldn't and still can't move much by himself. BUT: he is really enjoying life, especially if there are ear scratches and belly rubs included.
All other dogs accept him and greet him with respect (well, the puppies not always). He is very observant and will clearly tell us when he wants us to come because he is bored, wants to move to another spot or needs some water.
He refuses to use a wheelchair, but we think that he probably feels too insecure in the 2-wheel ones and we will try to build something with 4 wheels for him. For the time being he is exploring the world with us holding his back up in a sling.
Describing Babu in two words – cuddle-monster!
Babu will spend the rest of his days with us!