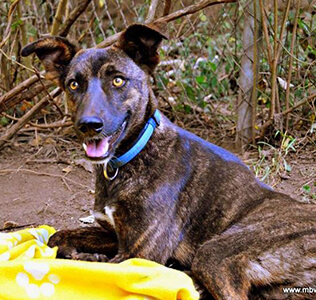 Akili
Akili came to us in March 2019. We already knew about him since some weeks, but just had no space to immediately take him in. Somebody had called Jens that there is an injured dog that they are feeding and taking care of. So when we finally had space Jens went to Arusha to get him. Akili was dragging himself around in a ditch, unable to move his hind legs. The people told that he got hit by a motorcycle. Since that Akili is paralyzed and one of his hind legs was so badly broken that we had to amputate. The other leg he is still using for stabilization sometimes.
Akili`s ability to just walk on his two front legs is impressive. He is walking around like he never had four legs. And in his wheelchair he is even faster than motorcycles (as we found out). He is going for long walks and no hill is too steep for him. Probably he would even make it up to Kilimanjaro.
Akili loves to play with the puppies and the puppies always love him. He is looking a lot for attention and loves his ear scratches. Akili means mind and you can often watch him thinking. He is a very special character and a lot of visitors are big fans of him.